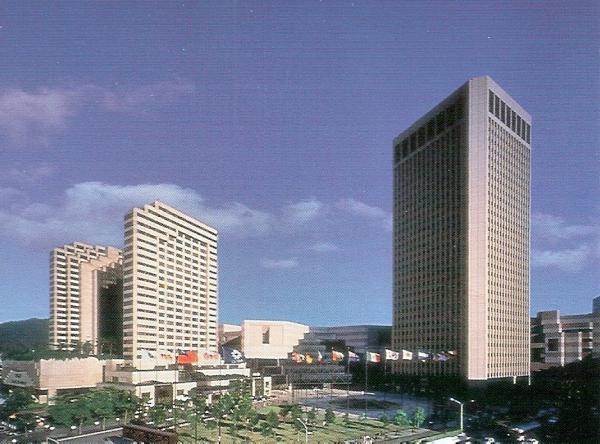 Taipei is the capital of Taiwan, and is located on the northern edge of that island nation, 17 miles from the main port of Chi-lung. Despite occasional problems associated with its ties to China, Taiwan has emerged as one of the world's largest trading nations. International trade amounts to 80 percent of Taiwan's GDP.

The Taiwan WTC Foundation was created by the national government to oversee the development of the facilities. Construction began in 1984, with the exhibition hall and product mart opening in 1986. An office tower, Grand Hyatt Hotel and Convention Center followed, at a total capital cost of $715 million.

Concentration of Services

The key concept of the WTC Taipei has been to function as a singular, centralized location through which importers and exporters can exchange information and products. The government's commitment has played an important role - including housing the China External Trade Development Council (CETRA) at the WTC Taipei office tower.

Real Estate Premiums

Office space in and around the WTC Taipei averages $30.80 per square foot, compared to the overall Taipei office rental rate of $25.98 per square foot. While WTC Taipei has little retail space, the surrounding area is emerging as a shopping locale, with a new 64,500-square-foot mall, 95% leased at above-market rates. The hotel portion of the complex commands an average nightly rate of $157. 70, some $32 higher than the business district market.

Redevelopment Impact

WTC Taipei is located on a former military base outside the city. The area surrounding the WTC is now known as "Taiwan's Manhattan," and the advent of the facility has transformed the surrounding area into a vibrant office and retail center.

Economic Impact

The WTC Taipei annually generates 1,800,000 overnight visitor days, and 1,000,000 daytrip visits. The combined direct, indirect and induced spending associated with the WTC Taipei equaled $1.3 billion in spending last year.

WTC, World Trade Center, and MAP Logo are all registered trademarks of the World Trade Centers Association, Inc.