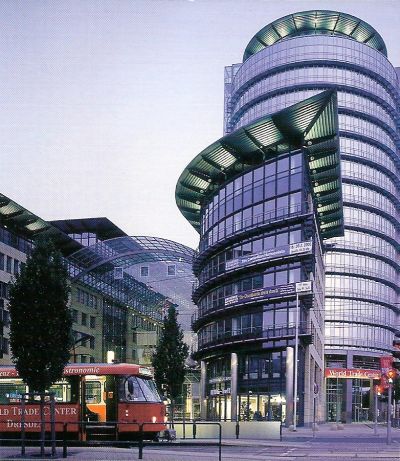 Dresden is a city on the eastern edge of Germany, near the borders of the Czech Republic and Poland. It is the 14th largest city in Germany, located on the Elbe River. Destroyed by allied bombers during World War II, it was rebuilt by the former German Democratic Republic. Since the reunification of Germany in 1990, the state of Saxony where Dresden is situated has been a primary generator for East Germany's growth and development. Dresden itself has seen much direct investment, including a $1.9 billion Siemens Microelectronics Center and $2.1 billion Advanced Micro Devices (AMD) plant.

The WTC Dresden was completed at the end of 1996. It is an eight-building, $280 million complex with 689,000 square feet of office space, 108,000 square feet of retail space, 129,000 square feet of hotel space, and 8,000 square feet of conference/meeting space. It also has a 640-seat theater. The WTC Dresden is comprised of 32 investors - individuals, corporations and one bank. In 1998, WTC Dresden earned official WTC certification, the only such facility in Germany.

Concentration of Services

The WTC Dresden is the largest and most distinctive office complex in Dresden. It has made the city a center of economic activity for Germany and Eastern Europe. The facility provides key services for German businesses still learning how to operate in the private sector - and the global economy.

Real Estate Premiums

WTC Dresden's office space captures significantly higher rental rates than the rest of the city. Office rents are $14.81 per square foot, compared with an average $9.24 per square foot for comparable space. Occupancy rates for the city and the WTC are roughly the same, 78% - 79%. Retail space at the WTC Dresden rents for $27.35 per square foot, compared with an average of $15.63 for comparable space. Occupancy is 95%. Hotel rates at WTC Dresden also outperform the market at $102.56, compared with a city-wide average of $64.92.

Economic Impact

WTC Dresden generated 114,220 overnight visitor days and 158,980 day-trip visits last year. The estimated direct, indirect and induced spending was $57.2 million.

WTC, World Trade Center, and MAP Logo are all registered trademarks of the World Trade Centers Association, Inc.